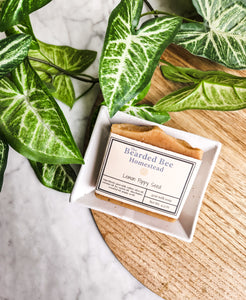 Lemon Poppy Seed is a bright and cheery blend of pure lemongrass and lemon essential oils. If you love lemon, this is the soap for you. Poppy seeds add an extra touch of prettiness in this soap, along with a very mild exfoliation.
My soaps are handmade in small batches using the traditional cold-process method and the finest, simplest natural ingredients. I believe simple is best! I strictly stay away from palm oil, harmful chemicals, foaming agents and detergents because they're harsh and drying to skin. All of my packaging is zero waste or recyclable. All soaps are vegan friendly with the exception of Milk and Honey.

Key Ingredients:
-A rich blend of olive oil, shea butter, and coconut oil give this soap a fluffy clean lather to make you feel squeaky clean without drying your skin.
-Poppy Seeds provide a light, mild exfoliation.
-Pure lemongrass and lemon essential oils.

-In an effort to be less wasteful, do not be surprised if your order arrives at your door in reused packaging. While I strive to keep the packaging on my products plastic free, I do use recycled bubble mailers, along with random boxes, kraft paper, bubble wrap, etc. I encourage you to reuse/recycle our packaging as well. Although the outside may not be pretty, the inside will look (and smell) wonderful. It is what's on the inside that counts anyways, right?